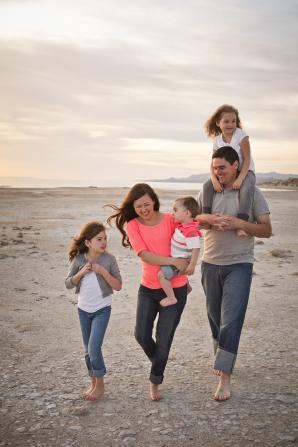 God, our Father, is the creator of life. He is the giver of life, and all things in heaven and earth are His. He has laid before us a great plan of happiness that stretches into eternity and has no end. He is the Father of our spirits, and we are His children. We are created in His image, and He loves us with a love that is beyond our mortal ability to comprehend. But as His son was His greatest gift to us, the Bible reminds us, "For God so loved the world, that he gave his only begotten Son, that whosoever believeth in him should not perish, but have everlasting life." (John 3:16).
Because God gave His only begotten Son in the flesh as the center of the plan of happiness for us all, we can clearly feel, see, and understand that the sanctity of life is greatest in the eyes of God. As the men of earth declare, create, and alter laws of their own making, they do not alter or change the laws of God, everlastingly decreed in Heaven before the world began. The children of men do not decide what truth is. They decide if they will give heed to it or not. The children of men do not decide if Jesus is the Christ and the Savior of the world. They decide if they will believe in Him or not. Truth does not change. And what a blessing and relief that is. Hold fast to that truth. Because in the world at present, there are many willing to set God and His commandments aside and assume to take liberties with the definition of freedom, life, and agency to choose.
The changes in laws and what will and will not be allowed by men are unsteady and many times come at the risk of losing all the blessings that God has in store for His children. I would like to share a particular part of The Family- A Proclamation To The World, Given to the world by a prophet of God, inspired and revealed by God. It states, "We declare the means by which mortal life is created to be divinely appointed, We affirm the sanctity of life and of its importance in God's eternal plan. . . Children are entitled to birth within the bonds of matrimony, and to be reared by a father and mother who honor marital vows with complete fidelity. . .We warn that individuals who violate covenants of chastity, who abuse spouse or offspring, or who fail to fulfill family responsibilities will one day stand accountable before God. Further, we warn that the disintegration of the family will bring upon individuals, communities, and nations the calamities foretold by ancient and modern prophets."
Stand for what is right. Learn of the Savior. This means that laws that abuse, terminate, or break the development of a family with a father and mother are not in line with the plan of happiness God has so lovingly created for our return to His arms. I hope in your quiet moments you contemplate how you can defend the family and the children who need a safe place within its institution. Contemplate what you can do in your community, country and life to hold these things sacred.
These truths reveal that abuse, abortion,and adultery, are among the most serious sins that violate the commandments of God and sanctity of the family on earth as the institution that God set in motion. We all belong to His family, and He loves us and wants us to return to live with Him forever. The Savior gave His pure and perfect life to protect our eternal heritage IF we will live His laws. Come unto Him. And never leave.
To read the entire document The Family- A Proclamation to the World please go
Here
-Posted by: Brooke Kamalu- Member of the Church of Jesus Christ of Latter-day Saints