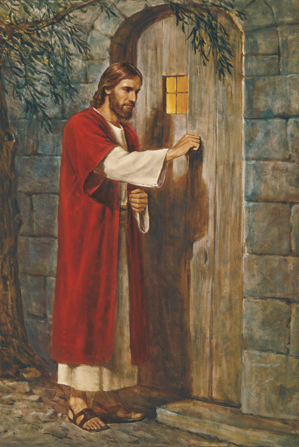 In the Book of Mormon there is a verse in the book of Ether chapter 12 verse 41 that directs,
"And now, I would commend you to seek this Jesus of whom the prophets and apostles have written, that the grace of God the Father, and also the Lord Jesus Christ, and the Holy Ghost, which beareth record of them, may be and abide in you forever. Amen."
There are many ways in which we seek the Savior and learn His will, doctrine, and gospel, but of utmost importance is our seeking of Him in the scriptures and in prayer to our Father in Heaven.
In the most recent General Conference of the Church of Jesus Christ of Latter-day Saints, President Russel M. Nelson gave a talk titled,
Drawing the Power of Jesus Christ into Our Lives.
He opens this message by saying, "My dear brothers and sisters, we live in a most difficult dispensation. Challenges, controversies, and complexities swirl around us. these turbulent times were foreseen by the Savior. He warned us that in our day the adversary would stir up anger in the hearts of men and lead them astray. Yet, our Heavenly Father never intended that we would deal with the maze of personal problems and social issues on our own.
God so loved the world that He sent His Only Begotten Son to help us. And His Son, Jesus Christ, gave His life for us. All so that we could have access to godly power- power sufficient to deal with the burdens, obstacles, and temptations of our day."
I have found that the Savior speaks to me through the holy scriptures. His words are powerful and life-changing. There have been sacred times for me when a verse of scripture comes with such clarity and force that I know He is speaking to me through the Spirit and giving me direct and personal revelation. And I am always amazed when I re-read those verses and can still recall the feelings of an earlier prompting or profound message of peace. And what is even more miraculous about the scriptures is the depth of knowledge they truly hold. I can return to verses I have read hundreds of times, and if I come in the right spirit and frame of mind, I learn something new again and again.
I invite you to read President Nelson's talk
here.
He will teach you the power of studying the Savior's words, and seeking after Him in a way like never before. I also invite you to start to build a relationship with Jesus Christ through scripture study and prayer. He will draw near to you. He knows your name. He is the definition of pure love. He is the great healer. He is the light of the world. Come without delay.
Posted by Brooke Kamalu- Member of the Church of Jesus Christ of Latter-day Saints